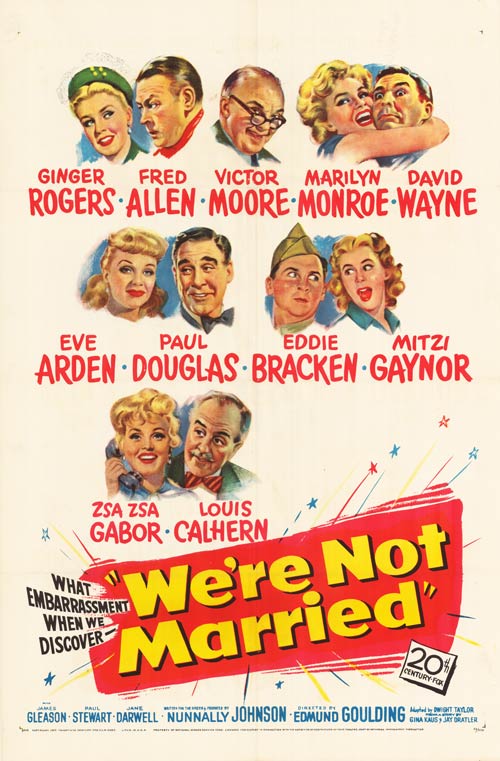 When a Justice Of The Peace (Victor Moore) receives his appointment on December 24th Christmas Eve, he immediately begins performing marriages. After the fact two years later, it is discovered his appointment began on January 1st of the next year. Thus the five couples he married during that 7 day period aren't legally married. They include a famous married couple (Ginger Rogers, Fred Allen) who have their own radio show but can't stand each other, a professional beauty queen (Marilyn Monroe) and her Mr. Mom husband (David Wayne), a soldier (Eddie Bracken) being sent overseas and his pregnant wife (Mitzi Gaynor), a couple (Paul Douglas, Eve Arden) who no longer communicate and an oil millionaire (Louis Calhern) and his golddigger wife (Zsa Zsa Gabor). Which begs the question ... if you had to do it over again, would you? Portmanteau films can be fun. A series of sketches, usually with an all star cast, tied together with a common theme.
WE'RE NOT MARRIED!
zips quickly along (its running less than 90 mintues) and doesn't dwell on any of the stories long enough for any of them to wear out their welcome (though the Gaynor/Bracken storyline pushes it). It's painless watching and sometimes more than that, the radio commercials done by Rogers and Allen on their radio show are cuttingly amusing. Directed by Edmund Goulding (
GRAND HOTEL
). With Lee Marvin, Jane Darwell, Paul Stewart and James Gleason.