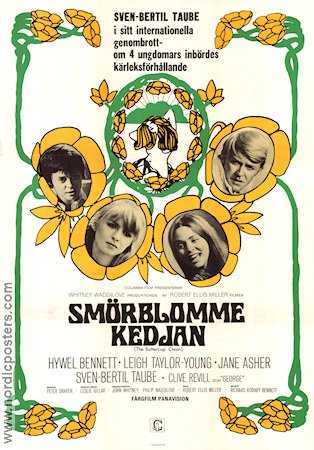 Two first cousins (Hywel Bennett, Jane Asher) have a close relationship, almost
too
close. One summer, they enter an unusual romantic relationship with two others. A Swedish architect student (Sven Bertil Taube) and a free spirited American girl (Leigh Taylor Young). On a vacation in the Spanish countryside, the lines in their relationships, desires and loyalties become blurred.
Very
much of its time, this is one of those "swinging 60s" films that doesn't translate well in contemporary terms. The four lead characters, perhaps Bertil Taube's less so, are a rather self centered bunch. So much so that when their self involvement is responsible for a tragedy, they seem more concerned with how the tragedy involves
them
rather than the tragedy itself. None are particularly likable but Leigh Taylor Young seems to have thought out her performance in such a way that she almost makes her air headed narcissism almost touching. The 1970s fashion are hideous, in particular an ugly white outfit that swallows up Bennett and makes him look like Truman Capote. Directed by Robert Ellis Miller (
THE HEART IS A LONELY HUNTER
). The score by Richard Rodney Bennett gives the film a much needed assist. With Clive Revill as Taylor Young's millionaire sugar daddy.