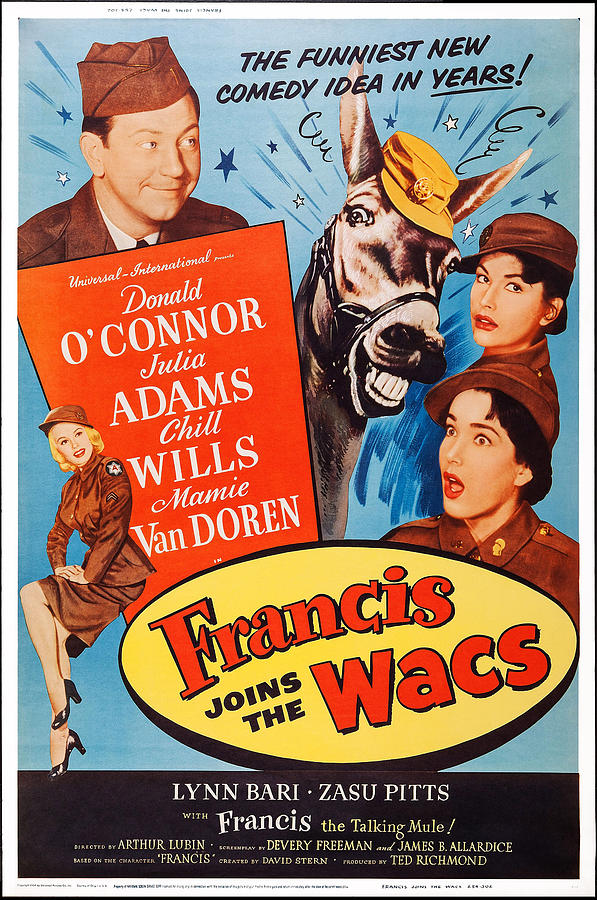 A bank teller (Donald O'Connor) is called back into active duty with the Army. However, a computer error has him assigned to the Women's Army Corps. As coincidence would have it, he finds an old friend there. A talking mule called Francis (voiced by Chill Wills). This fifth installment in the Francis The Talking Mule franchise is showing signs of exhaustion. It's a essentially a one joke concept that's been milked dry and probably should have wrapped it up with this entry. There would be two more (with Mickey Rooney replacing O'Connor in the last one) and heaven knows where else the franchise would have gone ...
FRANCIS GOES TO MARS
?
FRANCIS MEETS TARZAN
? O'Connor, who had been in every Francis movie since the first one in 1950, dutifully goes through his paces while a bevy of Universal contract lovelies don WAC uniforms. This being 1950s Hollywood, every WAC is a babe! The film sends out mixed signals about women in the military. Parts of the film are extremely condescending toward the female soldiers yet they ultimately triumph over their male counterparts. Directed by Arthur Lubin. Among the WACS: Julie Adams, Mamie Van Doren, Lynn Bari, Allison Hayes, Mara Corday, Joan Shawlee with Robert Bray and Zasu Pitts.