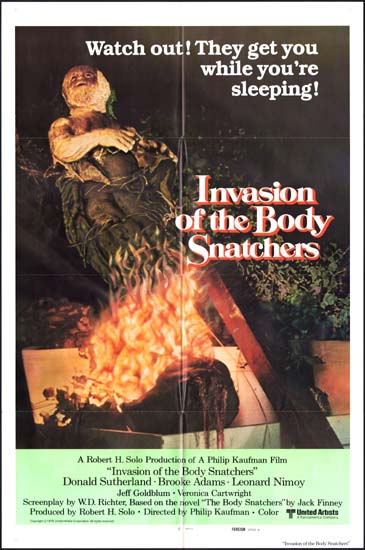 Set in San Francisco, a young woman (Brooke Adams,
DAYS OF HEAVEN
) is perplexed by the changes in her live in boyfriend (Art Hindle). She is convinced he is not the same person and she confides her fears to a co-worker (Donald Sutherland). She's not the only with this conviction. But what at first seems a sort of mass hysteria paranoia becomes a horrifying reality. This remake of the 1956 Don Siegel sci-fi classic gives lie to the belief that remakes are unable to match their originals. Philip Kaufman's take on the 1956 film (based on Jack Finney's novel
THE BODY SNATCHERS
) stands on its own and as the equal of the 1956 predecessor. The screenwriter W.D. Richter updates the 1950s red paranoia and taps into the 1970s rampant paranoia that our authority figures (government, corporations) were lying to us, "They're out to get us!" as exemplified by Jeff Goldblum and Veronica Cartwright's nonconformist married couple. But unlike most of the other conspiracy thrillers of the era, this one is great
fun
. Those of us who were lucky to the film on its first run engagements will remember the superbly unsettling Dolby sound design by Art Rochester. The sensational score is by Danny Zeitlin, sadly his only film score (he disliked doing film music). With Leonard Nimoy, Lelia Goldoni and in cameos, the director of the original film Don Siegel and its star Kevin McCarthy.