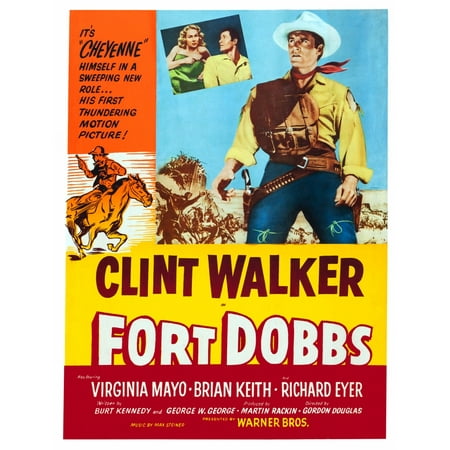 On the run from the law, a man (Clint Walker) changes clothes with a man killed by Indians to put the sheriff off his trail. When he happens upon a small ranch with a woman (Virginia Mayo) and her son (Richard Eyer,
7TH VOYAGE OF SINBAD
) that is destroyed by Comanches, he takes it upon himself to escort them through treacherous Comanche territory to the safety of Fort Dobbs. Directed by Gordon Douglas, for the most part, this is an engrossing if minor western with much to recommend. Walker may be a hunk but his screen presence is debatable and his acting ability limited but fortunately the role accommodates his limitations but the undervalued Mayo, who carries the burden of the acting, is quite good. The film seems to building towards something but all we get is a disappointing attack on the fort. Still, I liked the way the film didn't force a romance between Walker and Mayo, instead opting for a tentative bonding with possibilities. The austere B&W cinematography is courtesy of William Clothier and the excellent score is by Max Steiner. It's amazing how good he could be when he put some effort into it though at this stage of his career, he wasn't composing a dozen or more scores per year. With Brian Keith and Michael Dante.